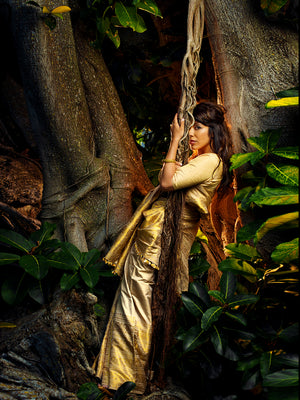 BLOWN GLASS ON CANVAS
Bula Barua is an award-winning, internationally acclaimed Master Artist.  She is inspired by the vivacious and free movements of blown glass and incorporates it into her mixed-media artworks. Bula's unique painting style has become known as Luxury Fine Art - Blown Glass on Canvas, with hundreds of collectors eagerly anticipating her next artwork.  
Bula creates multi-dimensional beauty and depth by combining luxury elements, such as Swarovski crystals, 24 karat gold, silver, crushed mica, precious gems (amethyst, rubies, sapphires, emeralds) and high-end resins onto the canvas.  
As an ingenious visionary, combining nature's elements together in perfect harmony, Bula is quickly becoming recognized as a prolific, modern master.
Her art is included in many private and public collections and galleries around the world, including Los Angeles, New York, Taiwan, Siberia, Italy, Miami, Moscow, Venezuela, Paris and more. Along with creating incredible paintings, Bula is an actress, pianist and composer, and a published author of short stories and poetry. 
THE BULA BARUA GALLERY
2534 Terminal Dr. S.
St. Petersburg, FL 33712
(727) 900-1063
bulagallery@gmail.com
Instagram: @theRealBula

We are located next door to the Fairgrounds St. Pete Museum in The Factory St. Pete.

GALLERY HOURS
Mon:   Closed
Tues:  12PM - 4PM
Wed to Sun: 12PM - 6PM